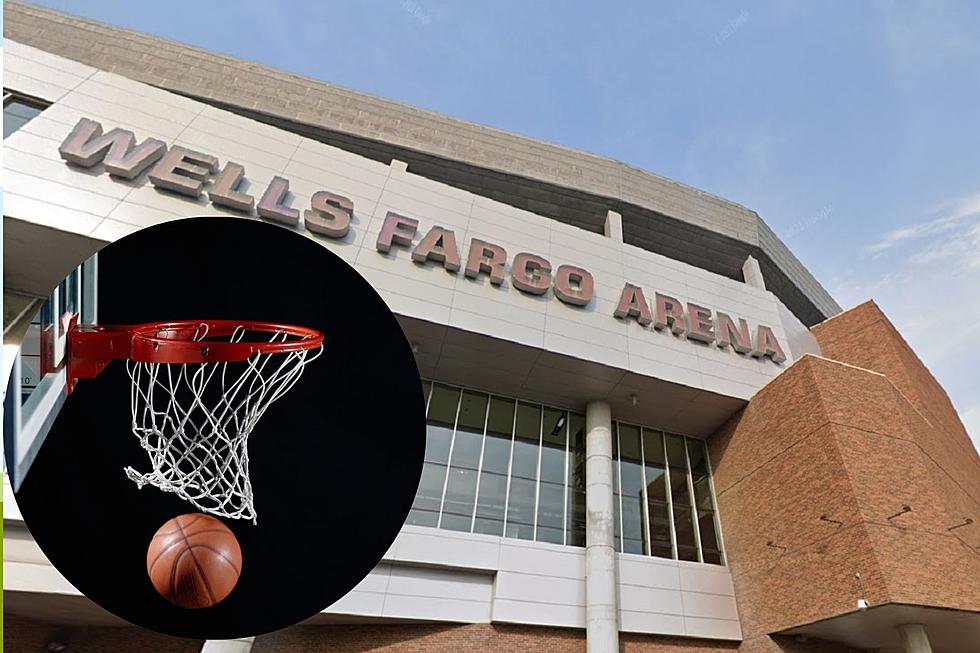 Dike-New Hartford Wins 3rd Straight Girls State Hoops Title
Google Maps/Getty Stock-Thinkstock
Another great week at the Iowa Girls High School State Basketball Tournament is complete. Here's a look back.
Eastern Iowa had 16 teams in the 5-class field of qualifiers. In Class 5A, #3 seed Waterloo West (22-1) and #5 seed Davenport North (21-2) are the eastern Iowa teams that qualified for the field of eight. West will play #6 Ankeny Central (17-6) on Monday, February 27 at 11:45 am while Davenport North will battle #4 Dowling Catholic (19-4) at 3:15 p.m. that afternoon.
Unfortunately, both Waterloo West and Davenport North lost in the opening round on Monday.
Pleasant Valley defeated Johnston by 3 to win the 5A championship.
In Class 4A, there are four eastern Iowa teams among the eight that qualified for a trip to Des Moines. The #8 seed Glenwood (16-8) will play top seed Dallas Center-Grimes (20-3) Tuesday, February 28 at 11:45 a.m. That's followed by #5 Decorah (21-2) versus #4 Ballard (18-3). That afternoon, #7 Clear Creek-Amana (18-4) faces #2 North Polk. In the final game of the afternoon, #6 Cedar Rapids Xavier (16-7) takes on #3 Sioux City Bishop Heelan (22-2) at 5 p.m.
All four eastern Iowa teams lost in the opening round.
Top-seed Dallas Center-Grimes won by 7 over North Polk to win the 4A title.
Four more eastern Iowa teams are in the 3A tournament. #8 Vinton-Shellsburg (17-7) takes on the #1 seed Estherville Lincoln Central on Monday, February 27 at 5 p.m. That night, #4 Benton Community (21-3) plays #5 Des Moines Christian (21-3) at 6:45 p.m., followed by #2 Solon (22-2) against #7 Dubuque Wahlert Catholic (18-6).
Monday was a great day for eastern Iowa teams, with Dubuque Wahlert Catholic suffering the only defeat, at the hands of Solon. The Spartans, Benton Community, & Vinton-Shellsburg all advanced to the semi-finals.
On Thursday, Benton Community defeated Vinton-Shellsburg and advanced to Friday night's 3A title game. They'll take on Sioux Center, who escaped Solon 46-44.
Sioux Center won the 3A title with a 15-point victory over Benton Community.
The Class 2A bracket has four eastern Iowa teams. #1 seed Dike-New Hartford (23-1) takes on #8 Aplington-Parkersburg (20-4) on Tuesday, February 28 at 6:45 p.m. That is followed by #4 Sibley-Ocheyedan (21-3) versus #5 Iowa City Regina Catholic (21-4). #3 Eddyville-Blakesburg-Fremont (24-0) will take on #6 Pocahontas Area (20-4).
Wednesday morning at 11:45 a.m. In Tuesday's action, top seed Dike-New Hartford moved on to Friday morning's semifinal against Sibley-Ocheyedan.
On Friday, Dike-New Hartford moved on to Saturday afternoon's championship game against Central Lyon, with a defeat of Sibley-Ocheyedan.
Top seed Dike-New Hartford won by 15 over Central Lyon to take the championship in Class 2A. It's Dike-New Hartford's third straight title.
In Class 1A, #3 seed North Linn (22-1) and #6 seed Winfield-Mount Union (22-1) are the only teams from eastern Iowa. They'll meet Wednesday, March 1 at 6:45 p.m.
North Linn moved on Wednesday night with a victory over Winfield-Mt. Union.
In Friday afternoon's semi-finals, Newell-Fonda defeated North Linn to move on to the 1A title game.
Bishop Garrigan, the #1 seed, beat Newell-Fonda 68-57 for the 1A Championship.
Vintage Cedar Rapids Postcards Show Us City's Amazing Past
Take a look through some historic postcards of Cedar Rapids. Enjoy this trip back in time.
Aerial View of Marion Home For Sale is a Major Wow
The home is located at 6201 Lakeside Road in Marion and is listed for $2.5 million as of December of 2022.
More From KOLM - 1520 The Ticket