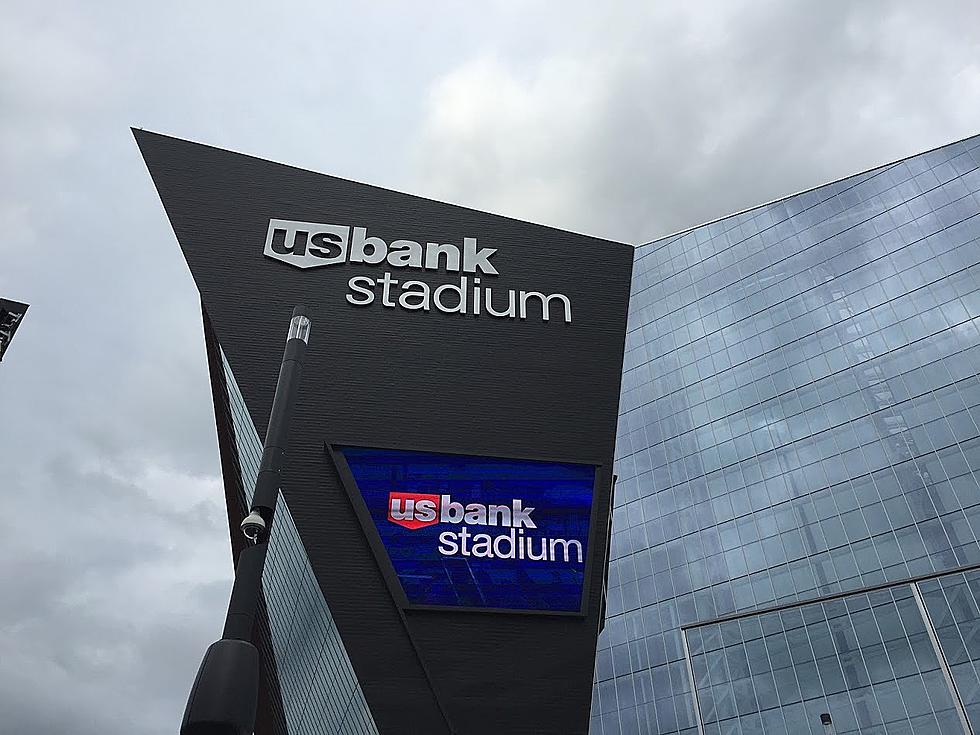 Five Area Teams Preparing For State Semifinals at U.S Bank Stadium
CSJ/TSM-Rochester
Five area teams were able to win their state quarterfinal matchup last week to advance in the MSHSL State Football Tournament. Now, every game the rest of the way will be played at U.S Bank Stadium in Minneapolis as each team will try to fight their way to the State Championship game.
9-Man State Semifinal - LeRoy-Ostrander vs. Kittson County Central
LeRoy-Ostrander will take on Kittson County Central in the first semifinal of the tournament. The Cardinals are coming off an impressive win in the quarterfinals 57-26 over Wheaton/Herman-Norcross. Chase Johnson ran for over 300 yards, scored 2 touchdowns, and threw for two more, while Tanner Olson ran for four scores in the win.
The Cardinals will try and continue their impressive offensive attack in the semifinals. The Cardinals trailed Wheaton/Herman-Norcross 12-7 early in the state quarterfinals but really turned it on in the 2nd and 3rd quarters to secure the win.
They'll battle a tough Kittson County Central team that took down Ogilvie 27-20 in the quarterfinals. Kittson County Central averages just over 31 points per game while allowing 15.8 per game. Kittson County Central is led by a very strong ground game that has produced two 1,400 yard rushers. Ozzie Meyer-Rice and Chisum Schmiedeberg have been incredible for Kittson County Central, with Meyer-Rice running for 1,596 yards and 18 touchdowns while Schmiedeberg has run for 1,424 yards and 17 touchdowns.
The Cardinals will look to their own ground game which has been very impressive throughout the section playoffs and state quarterfinals. Johnson has run for 2,368 yards and 32 touchdowns to pace LeRoy-Ostrander, while Tanner Olson has 546 yards on just 63 carries, and 13 touchdowns.
LeRoy-Ostrander has the ability to put the ball in the air, too, with Johnson throwing for 1,356 yards and 19 touchdowns.
Kickoff is slated for 11:30 a.m. on Thursday from U.S Bank Stadium. The game will be broadcast on 103.1 KFIL.
The Rushford-Peterson Trojans played a strong defensive game against their quarterfinal opponent, Belgrade-Brooten-Elrossa to advance to the semifinals 18-6.
Malachi Bunke connected with Justin Ruberg three times for touchdowns, and the Trojans were able to slow down a tough Jaguars team to set up the matchup with Minneota.
The Vikings beat Mahnomen/Waubun 34-0 in their quarterfinal and are 12-0 on the season, just like the Trojans.
Minneota averages 41.3 points per game and allows just 2.1 points per game. The Vikings have an impressive resume, but they are also going up against a Trojan team that averages 33.4 points per game and allows just 7.8 points per game.
The Vikings of Minneota beat BOLD, another state power, in their section final 20-0.
It'll be a great matchup on Saturday morning at 9 a.m. and we will have the action on 103.1 KFIL.
Class AA Semifinal - Chatfield vs. Barnesville
The Chatfield Gophers ran to a 50-20 win over Minneapolis North this past Thursday in the state quarterfinals. The Gophers, ranked #6 in the final rankings, will now take on Barnesville Thursday afternoon.
Sam Backer has continued his incredible postseason, running for another five touchdowns in the quarterfinals. His season totals are impressive, too, running for 2,297 yards and 38 touchdowns. Yes, Backer is a tremendous player, but the Gophers have a great offensive line that has blocked well all season long. The Gopher defense has been fantastic, too.
The Gophers were up 50-7 late in the third quarter in the quarterfinal matchup with Minneapolis North and the defense was running all over the field showcasing their speed and strength.
They'll have a tough matchup with Barnesville who offensively can hit you with a big play, quickly, if you aren't playing assignment football.
The Trojans run a similar style offense as the Cannon Falls Bombers, a team that Chatfield has seen before. That will give the Gophers a little insight on how to defend an offense that is coming off a 34-20 win over Eden Valley-Watkins in the quarterfinals.
Barnesville averaged 39.8 points per game this season and has allowed just 15.4. The Gophers have scored 38.2 points per game this season and have allowed just 14.6.
When you get to U.S Bank Stadium, every team is good, so you know this will be a fun matchup. The kickoff is scheduled for 2 p.m. on Thursday afternoon. The game will be broadcast on 103.1 KFIL.
Class AAA Semifinal - Plainview-Elgin-Millville vs. Annandale
The Plainview-Elgin-Millville Bulldogs had an impressive win over Breck in the Class AAA quarterfinals, 37-14. PEM jumped out quickly and never looked back to advance to the state semifinals.
The Bulldogs defense is very good, and it has been a big reason why they have been able to get wins against talented offensive teams in the playoffs like Cannon Falls and Lake City. Now, the Bulldogs will take that tough defense up against Annandale in the state semifinals.
Annandale beat Dilworth-Glyndon-Felton 27-18 in the quarterfinals to advance on to U.S Bank Stadium. The 9-2 Cardinals have a quality offense that has put up 34.5 points per game this season and allowed just 15.4
The Bulldogs scored 28.8 points per game and have allowed just 13.1 per game.
It should be a great matchup as the PEM and Annandale will battle for the right to go to the state championship. The kickoff is scheduled for 2 p.m on Saturday, November 20th.
Class AAAA Semifinal - Kasson-Mantorville vs. Becker
Kasson-Mantorville had an impressive win of their own in the state quarterfinals with a 42-7 win over Fridley.
The KoMets have been rolling this postseason with a 45-14 win over Winona in the section semifinals, a 42-14 win over Byron in the section finals, and now a 42-7 win in the state quarterfinals.
Kasson-Mantorville is 8-3 on the season and will now battle a tough Becker team who beat the Academy of Holy Angels 24-7 in the quarterfinals.
Becker is 11-0 on the season took down Hutchinson 21-12 in the regular season. Hutchinson and Becker have been ranked #1 and #2 in the state for a majority of the season. This season, Becker has scored 32.4 points per game and has allowed a stingy 7.9 points per game.
K-M will look to be the first team to upend Becker this season and try to make it to the state finals. The KoMets have their own impressive offense, scoring 34.7 points per game and allowing just 18.2.
The kickoff is scheduled for Thursday, November 18th at 4:30 p.m. at U.S Bank Stadium.
The state championships are scheduled for the two days after Thanksgiving, with the Class A, AA, AAAA and AAAAAA set up for Friday the 26th. 9-Man, Class AAA, and Class AAAAA are set for Saturday the 27th.
Rochester Restaurants Open On Thanksgiving
Let's face it, not everyone has the desire or skills to cook a big
Thanksgiving
dinner. If you are one of those people and are planning to forgo the mess and hassle of a homemade Thanksgiving feast, these Rochester restaurants have your back.
Scroll through the list of Rochester restaurants open on thanksgiving and/or offering thanksgiving to-go meals:
More From KOLM - 1520 The Ticket