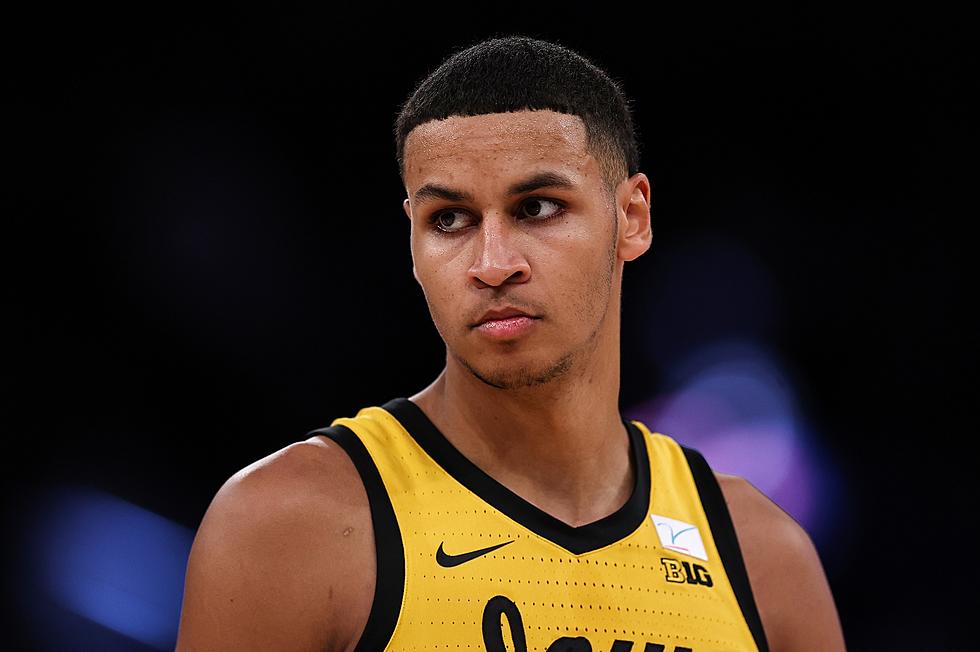 Kris Murray Announces His University of Iowa Career Is Over
Getty Images
One year and one week after Keegan Murray, the youngest of the Murray twins, announced he was leaving the University of Iowa, his slightly older brother is now departing as well.
Kris Murray, born just minutes before his twin Keegan, went from averaging .6 points per game as a freshman to 9.7 last year, and 20.2 per contest during the 2022-23 campaign. His rebound average from last season to this, also nearly doubled, going from 4.3 to 7.9 per game.
Just over a year ago, the Iowa Hawkeye teammates, and brothers, were Big Ten champions.
Shortly after that, Keegan announced he was entering the NBA draft. This morning, Kris revealed he's following in his brother's footsteps.
Kris Murray is widely projected as a 1st round pick when the NBA draft is held on June 22. And check out this forecast from the Sporting News, who believe Kris could go with the 24th overall pick:
"Kris immediately stepped in to fill his brother Keegan's role as the go-to guy for the Hawkeyes this season, averaging 20.2 points, 7.9 rebounds, 2.0 assists, 1.2 blocks and 1.0 steals per game. He brings a similar positional versatility on defense and has the ability to space the floor on the wing. For a Kings team that could use some forward depth, they would likely be thrilled to pair the Murray brothers if Kris were available at this point in the first round."
Yes, the Sacramento Kings would likely love another Murray. Keegan, who holds the rookie record for most 3-pointers in a season, has helped the Kings to 48 wins and their first playoff appearance since 2006.
Good luck in the draft Kris. Hawkeye fans will cheer you on, wherever you land in the NBA. I must admit, I'd love to see you and Keegan wearing the same jersey again.
Iowans Share Their Coolest Vacation Photos
Iowans have been on some epic vacations! Here are some of their best photos!
The Corridor Businesses That Iowans Miss the Most
Is there a Corridor-area business that you really miss? Here are some of the responses from Iowans on Facebook!
More From KOLM - 1520 The Ticket