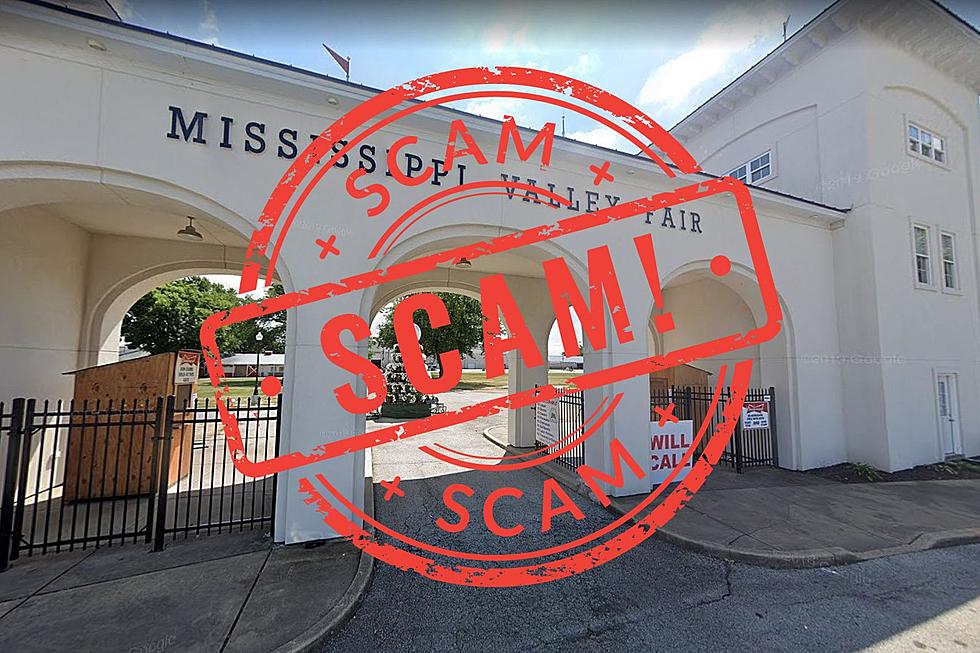 Major Eastern Iowa Fair Warns People About Scammers & Fun Cards
Google View; Canva
People are always trying to make money off of others or just blatantly steal it from them. Scammers are the worst and it feels as if scammers impact every aspect of our lives. Well, they are trying their best to make money using our beloved Mississippi Valley Fair.
Before the fair starts its first full day on August 1st, officials are warning people still trying to buy their Fun Cards about scammers and third-party websites overcharging you. They listed the cheapest price you should be paying and the exact spots where you can get a Fun Card.
If you still need to get a Fun Card for MVF 2023, this is exactly where you should buy them and the price you should be paying for them.
Mississippi Valley Fair Warns Of Scammers
In a social media post on Wednesday, officials from the Mississippi Valley Fair reminded those still looking to buy a Fun Card to beware of scammers or being overcharged.
The social media post says that Fun Cards can no longer be purchased on the Mississippi Valley Fair's website, but you can buy them in person at all Iowa Kwik Star locations, Great Soutehr Banks, Quad City Hy-VEe stores (including Muscatine and Clinton), and at the Mississippi Valley Fair office until July 27th.
The price of one Fun Card is $110. That gets you onto the fairgrounds every day of the fair and into all grandstand acts including the bonus concert on Monday, July 31st.
Officials say that scammers are in full force. They ask that you do not buy any tickets online from any site or any third-party company claiming to be selling Fun Cards. They are scammers or trying to overcharge you for Fun Cards that should only cost you $110.
Mississippi Valley Fair officials say that anyone with those scammer or third-party Fun Cards will be denied entry to the fair and grandstand events.
Mississippi Valley Fair 2023 Grandstand Acts
Austin Snell will take the 2023 Mississippi Valley Fair Grandstand Stage on Monday, July 31st, 2023. Headlining that same night will be Tyler Farr. This is the bonus concert for MVF 2023! 
---
Sam Hunt will be next to take the Grandstand Stage on Tuesday, August 1st, 2023!
---
Jordan Davis will be taking the Grandstand stage on Wednesday, August 2nd.
Lil Jon is the first of two acts to take the Grandstand stage on Thursday, August 3rd.
Ludacris will be the headliner on the Grandstand Stage on Thursday, August 3rd.
---
Three Days Grace will be rocking it out on the Grandstand Stage on Friday, August 4th.
---
Taking the stage on Saturday, August 5th, 2023, and headlining the 2023 Mississippi Valley is Limp Bizkit!
---
Wrapping up the 2023 Mississippi Valley Fair on Sunday, August 6th is HARDY!
---
Just buy Fun Cards from the places you know that actually sell them so you don't lose a bunch of money to scammers. The max you should pay for a Fun Card is $110. Don't be a dummy and get your Fun Cards to see Luda and HARDY.
10 Banned License Plates In Iowa That Made Me LOL
Iowa residents have submitted some really random (and now rejected) ideas for personalized license plates.
Eastern Iowa Home For Sale Has Amazing River Views & Man Cave
A home in Eastern Iowa that's for sale could be the ultimate summer paradise. The home is nestled in the bluffs along the Mississippi River in Clinton, IA. It has 4 bedrooms, 2.5 baths, a couple of fireplaces, and a man cave that will help improve your golf game. Take a look inside this beautiful home being shown by
Joy Jensen with Gateway Realty Group.
More From KOLM - 1520 The Ticket