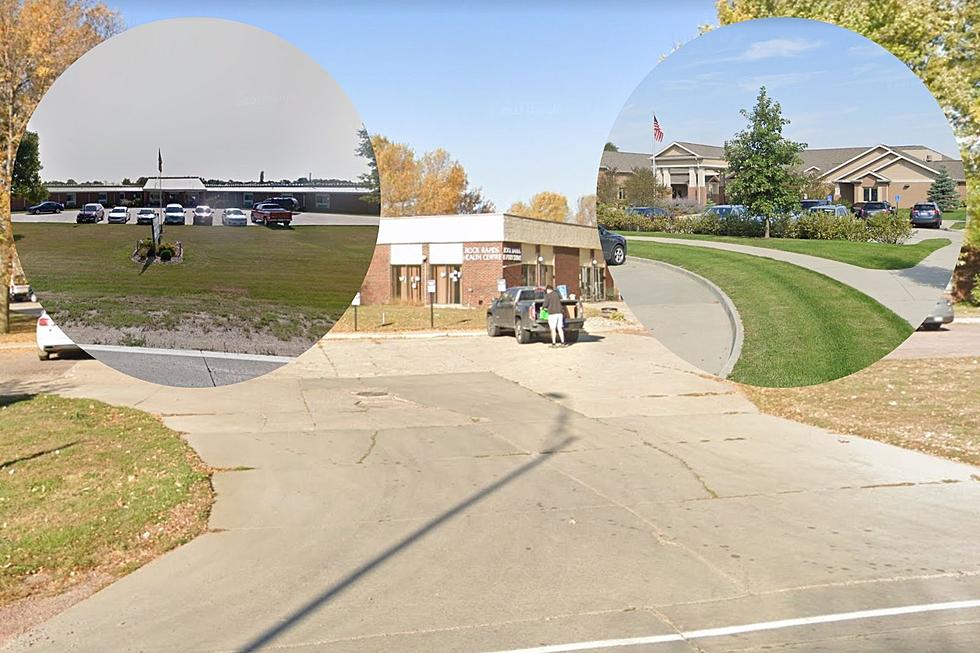 Three Iowa Nursing Homes Added to List of Nation's Worst
Google Maps
Three care facilities, in three different parts of Iowa, are now listed among the worst nursing homes in the United States.
The three homes are part of ten in the state of Iowa that the Iowa Capital Dispatch says are "eligible for inclusion on the federal government's list of "Special-Focus Facilities" that have recurring quality-of-care problems."
The three Iowa nursing homes now listed as "Special-Focus Facilities" are below, along with seven others in the state that are considered as candidates for inclusion.
New London Specialty Care
Located in southeast Iowa, New London Specialty Care has 46 beds. The U.S. government ranks it as a one-star facility. In 2021, the nursing home was fined $14,508. Last fall, it was accused of 18 federal violations. New London Specialty Care (photo below) is managed by Care Initiatives from West Des Moines.
Parkridge Specialty Care
Parkridge Specialty Care (photo below) is located in Pleasant Hill, in central Iowa. The 90-bed facility also has a one-star rating. In 2022, the government fined the nursing home $178,003. In August of 2022, payments to the facility were stopped by Medicare. In the fall of 2022, a resident died after being taken to a hospital emergency room. The patient didn't receive the proper attention for chest pain for four hours, according to state inspectors. It is also managed by Care Initiatives.
Rock Rapids Health Centre
Located in extreme northwest Iowa, the 44-bed Rock Rapids Health Centre (photo below) also has a government rating of one star. Medicare payments to the facility were stopped in August of 2020 and again in January of 2021. Also in 2021, it was fined $216,869. Ten different complaints were confirmed by Iowa inspectors in November of 2022. According to Iowa Capital Dispatch, the facility also had four administrators in a 10-month period in 2022. Rock Rapids Health Centre is managed by Arboreta Healthcare of Florida.
The three nursing homes are now on the list of 88 "Special-Focus Facilities" from around the nation that have "a history of serious quality issues." The three Iowa facilities are now in a program to quicken improvements through additional oversight. The Centers for Medicare and Medicaid Services updates the list on a quarterly basis.
Even though the number of Special-Focus Facilities is capped at 88, there are many other homes across the nation that have ongoing problems with their quality of care. In Iowa, there are seven considered "candidates" for the "Special-Focus Facilities" list if their quality of care doesn't improve. They are all listed below.
Arbor Court, Mount Pleasant
Aspire of Primghar
Genesis Senior Living, Des Moines
Griswold Rehabilitation & Health Care Center
Northern Mahaska Specialty Care, Oskaloosa
Oakland Manor
QHC Mitchellville
Historic Iowa Home of One of Von Maur Founders Has Sold
The Roland Harned House in Davenport was designed in 1902 and built in 1906. Harned's name was part of the Von Maur
store name
until 1989 when the store's name was changed from "Petersen, Harned Von Maur
"
to "Von Maur". The 6,000+ square foot home, at 830 Mississippi Avenue in Davenport, is priced at $649,900. Listing agents are Sara DeWulf and Brad Gibson of
Mel Foster Co
.
The Lions and Dogs of Brucemore Mansion
Howard Hall and his wife Margaret moved into Cedar Rapids' Brucemore mansion in 1937. Over the course of 14 years, they owned three lions, all named Leo. Below are photos of those lions, and the family's German Shepherds.
More From KOLM - 1520 The Ticket