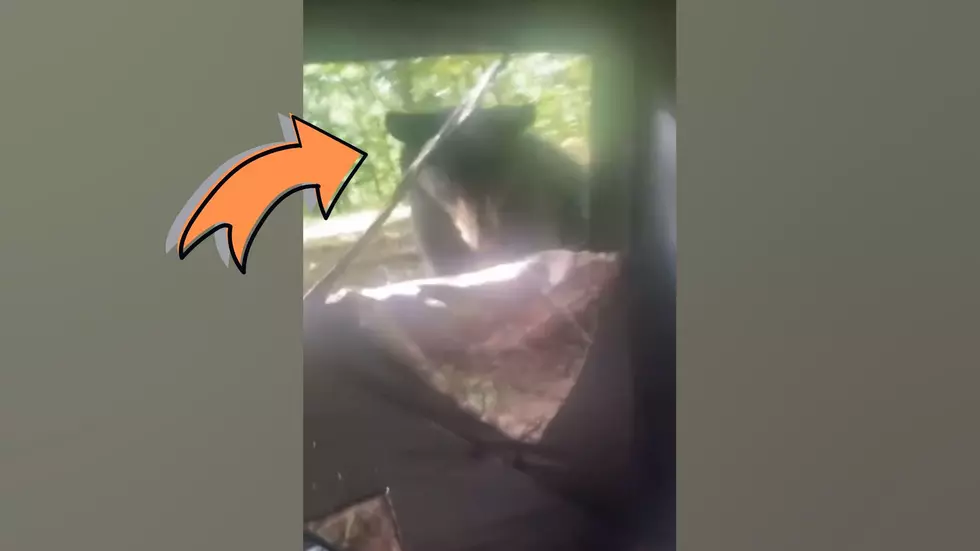 Hunter Shocked When Bear Tries to Join Him in His Hunting Blind
ViralHog via Rumble
Bears are curious creatures. While some view them a fierce predators, the fact is that most of the time when they wander into areas where humans are it's just because they want to know what's going on. A hunter experienced this recently when he was shocked to see a bear wanted to join him in his hunting blind.
The hunter who shared this video did not mention where this happened. He was in his hunting blind (not hunting bears, btw) and saw this big boy heading his direction. Before you know it, there was a large bear head peering into his blind. Yikes.
So what happened? The bear bolted back into the woods to continue doing bear things and the hunter lived to tell about his close encounter of the bear kind.
There was no audio included in this video share from what I can tell so there's no way to know if the hunter alerted the bear to his presence prior to seeing the bear poking his head into the tent. It's always a good idea if you see a bear in the wild to make the bear aware of you in a calm voice so the animal isn't surprised close-up. Surprising a bear normally doesn't end well for the human or the bear. It's very possible the hunter did this and the bear decided to check him out anyway.
All's well that ends well and we get to witness a curious bear up close and personal.
See an Epic Missouri Tipi Where Your Only Neighbors are Wildlife
More From KOLM - 1520 The Ticket